2008 West Coast National

Swift Fly-In Photo Report

Photos and captions by Denis Arbeau
Click on the small pictures for larger versions.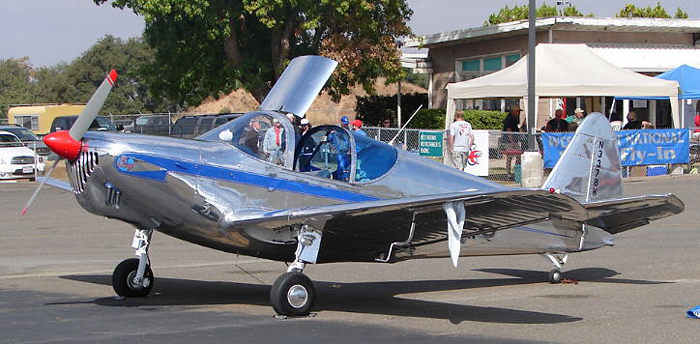 We begin with the penultimate fly-in pic. A beautiful stock GC-1B, hatch open,
polishing cloth hanging from the wing slot.
So-Cal Swifter Jared Smith is caretaker of this pristine Swift and just about all the
originality in this Swift is thanks to Jared because this Swift looked
quite different when he first began to care for N3378K.
Now, thanks to Jared's hard work, '78Kilo is a fine example
of what they looked like coming out of the Globe factory in '46.


What the guys saw when they
visited the men's room at the
Westover Field administration building. You can't fault their taste in airplanes!

Astro and his faithful companion Don Bartholomew. They are seen behind N3880K. A 210hp Swift that they built for the late Bill Merwin at The Aeroplane Factory. Nevada Swifter Tracy Rhodes is the current caretaker.

It appears in this pic that Bill Stein might be explaining how he does a "knife edge spin" in his Swift, er, I mean, Edge 540. Thus far Bill Jennings and Charlie Nelson seem a bit skeptical... (To actually see Bill do the knife edge spin click here...)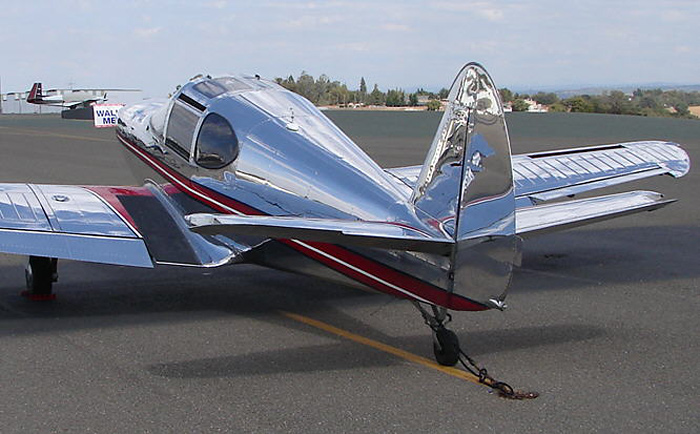 Nothing like broken clouds and daylight to really make a polished Swift pop!
This is s/n 3741 N2708W (ex N2441B). So-Cal Swifter Scott Naumann caretaker.


Don Thomson, caretaker of Swift N80971
helping set up registration. Don was one of many volunteers who assisted during the fly-in.

Typical fly-in moment... While So-Cal Swifter Karl Johanson deals with the prop card for his 210hp Swift N78103, fellow So-Cal'er Jared Smith looks on. Meanwhile Karl's wife Donna unties the wing while Arizona Swifter Alan Dicker steals a peek at the secrets inside '103's cockpit...

Oregon Swifter Kyle Hook cleans his Swift. This year N90383 sported new black trim with red pinstripes. This 200hp Lyc powered custom Swift is a far cry from how it looked when it rolled out of the Globe factory as an 85hp GC-1A.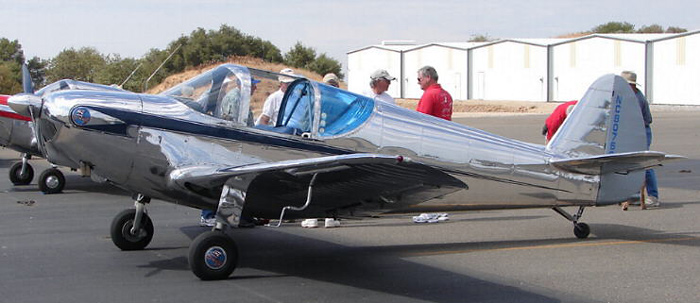 There seemed to be a crowd of Swifters around NC80760 the entire weekend.
The award winning ultra original GC-1A (s/n 163) flew all the way down from Diamond Point, WA
in the capable hands of caretaker Ernie Hanson.


'760's panel. An interesting mix
of original and modern technology.

A unique feature of the GC-1A is the
fabric covered "unbalanced" rudder.

Another angle on Jared Smith's N3378K. Look closely and you'll see those exhaust stacks have a bit of a "cant" at the tips. Is this a speed secret?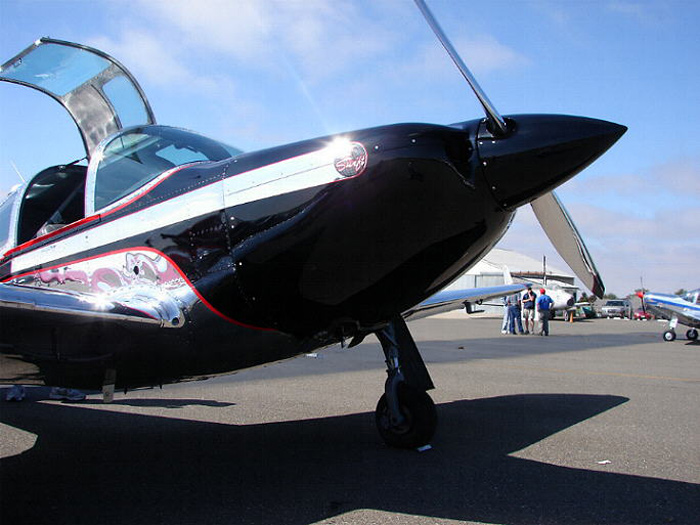 The business end of Kyle Hooks 200 Lyc powered Swift. That cowl is fiberglass
and the illusion of the polished metal is created by some "applied magic".

| | | |
| --- | --- | --- |
| A photographer documents Kyle's reflection in '383's fuselage. | That beautiful Aeroplane Factory STC'd bubble canopy. Here, the prototype on Don Bartholomew's Swift. The canopies are currently available and in production. | It's a stock cowl but that's about it for stock. The business end of Nevada Swifter Tracy Rhodes' Swift N3880K. That big spinner and scimitar prop clear evidence of the 210hp Continental under that stock cowl. |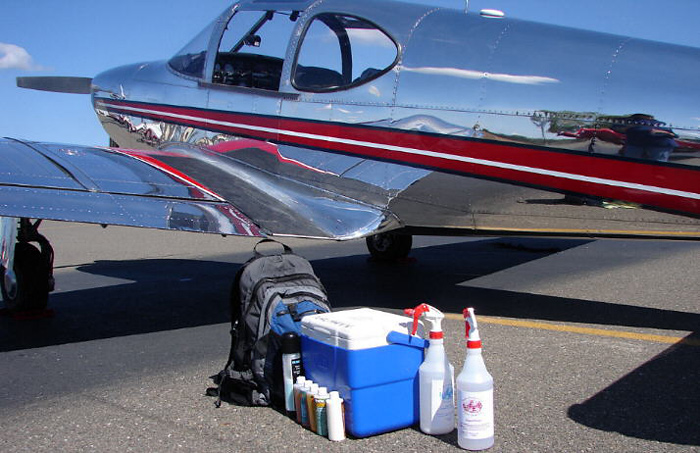 We bring our photo report on West Coast National '08 to a close with this very
appropriate portrait... Polish and cleaning agents, a backpack
possible full of clean cloths, and hopefully a cooler full of the refreshing
cold beverage of Scott Naumann's choice. Swifters have to travel light...
but the we see what has priority in this Swift's baggage compartment!



Click here to return to
Fly-Ins & Events Photos