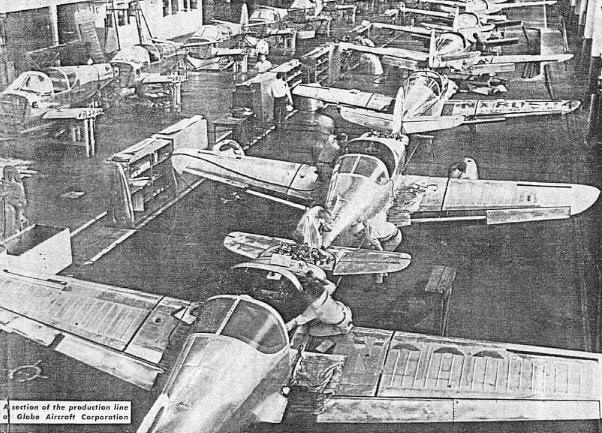 The following is a listing of businesses and individuals who maintain, restore, repair and modify Swifts. For information on businesses that support the Swift with parts and accessories
click here
. Listings are not an endorsement or recommendation. All transactions are at customer's own risk.


CALIFORNIA

FLORIDA

INDIANA

MINNESOTA

MISSOURI

MONTANA

NEVADA


NEW YORK

OREGON

SOUTH CAROLINA

TENNESSEE

TEXAS

VIRGINIA

WASHINGTON

---
---
CALIFORNIA



FIXED WINGS
John Clements - IA
Swift maintenance, repair, restorations and annual inspections.
SONOMA VALLEY/SCHELLVILLE AIRPORT (0Q3)
23980 Arnold Drive - Hangar 2
Sonoma, CA 95476
(707) 996-2407
(707) 225-5624
p38johnny@sbcglobal.net



CLAUDE MORGAN
Swift maintenance, repair and annual inspections. Specializing in owner assisted annual inspections.
16032 Liggett St., North Hills, CA 91343
Whiteman Airpark-Hangar C-7
Home: (818) 832-6727 Cell: (818) 321-4286
Swiftcaptn@AOL.com

BRUCE SEGUINE
Repair of original Swift metal parts. Fairings, wing tips, cowl, etc. Specialize in welding cracks and holes as well as making compound shapes for patches or pairings. Turn around time on all parts will be highest priority."
(925) 671-4943
bseguine@astound.net

Nor-Cal Swifter Bruce Seguine works his metal magic on this bent, battered, and cracked stock cowl grill... This grill came off of a local Nor-Cal Swift and Bruce made it look like new again.



Before (left) and After (right). Click on photo for larger version.
---
---

RAY BROWN
Long time Swift owner and mechanic Ray Brown is offering his mechanical expertise with Swifts. He has been working on Swifts since 1973 when he bought Swift N3756K. Ray has an inspection authorization for expert Swift annuals and is experienced in sheetmetal and hydraulics among other things. His shop, located in the Ocala/Leesburg area, is 3500sq/ft and equipped with shears, brakes, and an English Wheel. Contact information: Phone: (352) 259-3117 Email: FLSWIFTFIXER@EMBARQMAIL.COM

MICHAEL CAITO
Michael Caito owns Swift N3841K. A&P and IA with 26 years experience. Has performed maintenance on several Swifts in the Florida (N Lauderdale) area.
Michael Caito, Willis Gliderport, Boynton Beach, FL 33437
Home 561-531-6026
Cell phone 561-767-0805
Email: rock2008@uctwifi.net

PAUL C. HONOUR
Consultant DER (Structures)
Ancient City DER Services
9111 June Lane
St. Augustine Fla. 32080
(904) 461-5497 Fax (904) 461-8376
e-mail, phonour@aug.com


Ancient City DER Services is located near historic downtown St.Augustine, Florida. We have various Consultant FAA DER delegations for (14 CFR parts 23 & 25) aircraft, and 60 years of combined experience in Structural Engineering involving Commercial and Military Aviation. We are presently available to accept work that can be outsourced providing consultation, engineering review, stress analysis, and computerized report generation for FAA submittal. If you have a project, large or small that you would like to discuss, or would like a detailed estimate call, fax, or e-mail us. Requests for information and cost estimates are free of charge, and will usually be provided within 24 hrs. We have found that the modern conveniences of e-mail, FAX, Federal Express, and UPS can enable us to work effectively with clients, even those not located in our immediate area, to solve design problems and meet established deadlines. We look forward to hearing from you to help in meeting your aviation goals.

Services for FAA Approval with FAA form 8110-3:


FAA - Repairs / Alterations
FAA - Engineering Review and Sign off
FAA - Design / Construction Development
FAA - PMA / STC Reports
FAA - Substantiation Reports (Static & Fatigue)
FAA - Data Approval Reports
FAA - Reverse Engineering Reports
FAA - New Design & Analysis

Back to the top
---
---

MIKE WILLIAMS
Hartsville, IN
812-343-8879
globeswift1946@gmail.com
AP and IA services
30 year swift owner, Specializing in custom award winning painting of swift aircraft.
Swift annuals, minor repairs or alterations.

---
---

RARE AIRCRAFT LTD
Roy & Ben Redman
3401 Hwy 21 West
Faribault, Minnesota 55021
PH: 507-331-8446
roy@rareaircraft.com
---
---
MISSOURI

TOM CRAFTON
tecraft@aol.com
Recommended by Swifter Geoff Newcombe. "Tom is an AI in the Kansas City area and maintains two Swifts there."
---
---
MONTANA

MIKE COCHRAN
Glacier Park International Airport (FCA)
email: cochran@digisys.net
Home 406-257-5599
Work 406-756-5829
Swift Mechanic
---
---
NEVADA

THE AEROPLANE FACTORY
DON BARTHOLOMEW
885 Taildragger Road
Gardnerville, NV 89410
voice: 775-782-2992
fax: 775-782-7568
Website: www.aeroplanefactory.us
email: diamondswift074@gmail.com
Swift repairs and modifications. Bubble canopy STC!
Back to the top
---
---

"THE FLIGHT SCHOOL"
From: Jim Salmonsen <Topgunn62@aol.com>
Hi Denis,
Jim Salmonsen here in Upstate N.Y. I have been meaning to forward this for some time, but wanted everyone to know that the shop at our home field,(Oswego County,FZY),has risen above and beyond in the task of taking great care of my Swift since I purchased it. Believe me, she needed a LOT of sorting out, but she`s top notch now. There`s nothing they have not excelled in, being airframe or powerplant. The name of the shop is, "The Flight School", it is owned by Lon and Marge Sauter, and head Mechanic is Luke Giroux. The whole staff is personable, professional, and well worth the flight to reach them! Hope this helps some Northeast Swifters!! Great Web Site!!!! -- Jim Salmonsen/3385K

SWIFT AVIATION
Walter Wiemer
Sky Acres Airport, 308 Oswego Road, Pleasant Valley, New York 12569
Tel: 845-677-6736
Swift owner and expert at all phases of Swift maintenance and restoration.
Recomended by Swifter Peter Mahr peter@ncloth.northsails.com
---
---
OREGON



VINTAGE AIRCRAFT RESTORATION
Shane Wease
Aurora Airport
Aurora, OR
Speacialize in the restoration and maintenance of WWII and antique aircraft. Works on Howard Means' award winning custom Swift.
503-678-6887
email: vintageaircraft@yahoo.com
---
---
---
---

SCOTT ANDERSON
480 County Rd 750
Athens, TN 37303
423-745-5942
Cell Phone: 423-506-3834 (best way to contact Scott)
Builder of award winning Swifts. From stock to super custom.
Louisiana Swifter Doc Moore says... "Scott is in the planning stage of erecting a new hangar to perform his work out of at MMI. He is also available to travel on a mobile basis to do jobs for those who cannot bring their plane to him. He is very talented in all aspects of sheetmetal and fiberglass work having restored several award winning Swifts. He has also built 3 Glasair III's."

THE NEW SWIFTWORKS
VAUGHN ARMSTRONG
Mark Anton Airport (2A0)
Dayton, TN
(423)-240-8983 days
(423)-478-2612 nights
---
---

SILLS AVIATION SERVICES
3250 C CR 268
Leander, Texas 78641
Joe Sills (owner)
Phone: (512)-259-9104
Toll Free 1-877-243-5181
Fax - (512)-259-6754
sillsavi@ecpi.com





SPORT AVIATION CO.
Shane Stewart
F55 (Granbury Muni)
Granbury, TX
Swift work, ask for Shane @ 817-300-8002 e-mail: flylower@earthlink.net
Radio work, ask for Bob @ 817-239-0265 e-mail: rwv42@aol.com
Texas Swifter Tom Melinn writes... "I thought I would recommend a mechanic familiar with the Swift that you could add to the web site. He's always done a great job on mine and several area Swifts. Granbury is just sw of the Dallas- Ft. Worth area."
---
---

MCCLELLAN AVIATION SERVICES
George McClellan
McClellan Aviation Services
1917 Whaleyville Blvd
Suffolk, VA 23434
Email: wwiipilot@mac.com
Phone (757) 342-9030
Based at (SFQ) Suffolk Va.
I have been working on swifts for the past 10 years. I have owned Swift N655S for 14 years. I am a A&P-IA and would be happy to help any Swift owner on the east coast.
---
---

SWIFT FLIGHT
Aircraft Inspection/Repairs -- Specializing in the Swift
Harley Howell
Colville Airport (near Spokane)
Colville, WA
swiftflight1948@aol.com
(509) 684-2105
(509) 684-3024
Cell: (509) 680-3731

A.I.R. Inc.
Paul Nyenhuis
provides Swift maintenance, repair, and annual inspections.
Aviation Inspection and Repair
Arlington Municipal Airport.
(360) 435-4411
pan@cftinet.com



ELF AVIATION
Gerald Mahoney - IA/AP
Swift expert. Annuals, Pilot Services, Pre-Purchase Inspections.
191 Airport Way, Diamond Point Airport, Sequim, WA 98382 (near Seattle)
Phone: 360-681-4958 Email: elfavi@olypen.com
Website: www.elfaviation.com