COMPLETE AIRCRAFT
Click on small photos to enlarge...
PRICE REDUCED!!! PRICE REDUCED!!!

1949 TEMCO SWIFT GC-1B, N2300B - sn3600
180 HP, RESTORED BY SWIFT FOUNDATION 2005. 2135 TT, Lycoming O-360 A1A 375 SMOH,
Hartzell Propeller 35 SNEW, Cessna 150 seats covered with gray cloth, Plane Rewired in 2012
with New Instrument Panel, King KX 155 Nav/Comm, Garmin GNC 250 XL GPS/Comm,
Narco AT 150 Transponder, PS Engineering PM 3000 intercom, Garmin 696. JPI 760 Fuel Flow/Engine
Monitor, Co-pilot Brakes, Gross Wt. increase, Aft. Batt. Door, Extra internal 9 Gal. tank.
Aircraft Hangered in Colo. Springs. $51,900
Contact: Frank Watson (719) 392-0194 or email Targetdad@aol.com
(May 2013)(April 2014)
PRICE REDUCED!!! PRICE REDUCED!!!

1946 GLOBE SWIFT GC-1B N3388K
Serial Number 1386 Lyc IO-360-A1A, 200HP, 1000 Hr since new 1977,
TTAF 2697, Empty wgt 1386, Gross wgt 1970 50 Hrs SPOH, 8/18/04 (hartzell),
Aircraft entirely rebuilt and flown 1st time 2003, New firewall, 35 gal gas + 13 gal aux,
DER 8110-3 rebuilds main spar, DER 8110-3 flush rivets complete ac,
Wings flush no overlap, no slats, no straps, flush gas cap.
Gap seals, 2 sets wingtips (std & small). small wheels, fiberglass
Wingroot ferrings (extended), 1 piece windshield, small rear window,
All new plexiglass (clear). Paint Imeron white except fuselage (polished).
No trim paint yet.
Flat panel, 1969 Mooney center quadrant, Zema (Lisher) sticks,
Brakes both sides, Battery relocated with inside cabin access.
150 seats (3) short or tall person, shoulder harness, elec. fuel pump,
Elec, trim, Flat inst, pnl, KX 136 audio pnl, sigtronix ic, KX 120 com,
KN 62 DME, AT150 (c). NAV 121 and NAV 122 w/gs mkbcn,
All logbooks, ADs up to date. $65,000.
Contact: Russell Thomas:
(626) 576-1709 or plnfast@yahoo.com
(Nov 2010)(Dec 2012)(March 2014)
PRICE REDUCED!!! PRICE REDUCED!!!

1946 Globe GC-1B Swift, N80913 - sn 1106
Continental IO360D engine. 4475 Airframe, 670 SMOH engine , 556 SMOH McCauley Prop. Polished
aluminum with blue Swift stripe and emblem. Original panel with modifications for "six pack" instruments
arrangement. IFR(VFR certified) Garmin GNC300XL GPS, Garmin 320 Transponder. Portable intercom
mounted. Shadin miniflo, Engine Monitoring system, electric fuel pump. Mostly complete records
(some years missing). Cessna 150 seats, Shoulder harnesses, increased gross weight, 9 gal belly tanks,
P51 style gear doors, Cleveland brakes, Original airframe including cowling.
Annual June 2013. I've owned this aircraft for 18 years and we just don't use it anymore.
It's time for the next caretaker to have this fun airplane. Asking $ 45,000.00.
Contact: Jon Ewing 305-788-6589 or Jonewing@bellsouth.net
(Oct 2013)(March 2014)

1946 Swift GC-1B, N80698 - sn 1103
1946 Globe GC-1B Swift, Continental C-145, ACTT: 1530.32, Tach 743.42. King KX170B, Narco AT50A.
Fresh Annual done December 2013. ELT battery replaced due Dec/2015. AD Report Completed/Current
to Revision 2013-24. New Windshield, New Exhaust, New Mags/Wires, New Brake Linings. Compressions
are #1=74/80, #2=71/80, #3=60/80, #4=76/80, #5=63/80, and #6=79/80.
Aircraft is located at the Camarillo Airport. $37,000 / OBO
Call for more Details. Contact: Matt (805) 218-1112
(Jan 2014)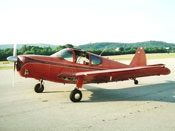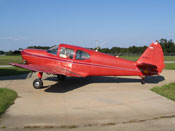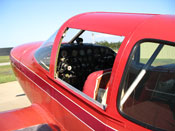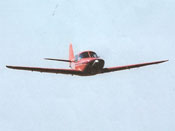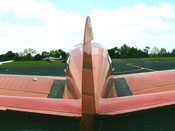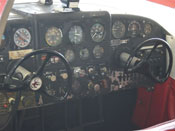 1946 Swift GC-1B, N78071 - sn 2071
Very nice Swift TTAF 1715, Continental O-300D, SMOH 206 McCauley Prop - TT 206
KX125 NAV/COM, Two-place intercom, GTX320-A transponder, Encoding alt., AK 450 ELT, Electric Trim,
Flat-baggage deck, Gull wing canopy, Shoulder harness, Cleveland wheels & brakes, Improved hyd
gear motor, Original wing-tips, Strobe light, and Piper pitot blade.
Annual: December 2013 Located Enterprise, AL (KEDN) $38,000.
Contact: Roland T. Tanner (334) 447-6201 or (334) 894-0678 or email rtanner003@centurytel.net
(Dec 2013)

PRICE REDUCED!!! PRICE REDUCED!!!

1949 TemcoGC-1B Super Swift, N2425B - sn 3725
Beautiful award winning 1949 Temco GC-1B 3229TT, Continental IO-360, 210 hp, 87 SMOH,
only 2 owners the last 38 years! Rare no damage history, almost everything new or rebuilt
since 2004. Beautiful leather interior (won Nationals in 2006). 3 pc lighted burl and carbon
fiber panel with King KX-155, KI-209 w/ glide slope, KA-40 marker, Garmin GTX-320
transponder, sigtronics intercom, EI fuel flow, oil pressure/temp, volt/amp, and egt/cht.
There is much more I would be happy to discuss or show. This airplane has been featured in
many publications and most recently featured on the Outdoor Channel's "Wings to Adventure".
It is a beautiful Swift that I want to find the next "caretaker" for her.
Over $150,000 has been invested. Reduced to $79,500 or best reasonable offer.
Hangared at RVS in Tulsa, OK.
Contact: Tom (817) 219-0175 or email tmelinn@cox.net
(April 2012)(Feb 2013)(Dec 2013)

1946 Globe GC-1B Super Swift, N7764C - sn 166
Built by Jack Nagel with all available Swift modifications.
458 TTSN engine and 99.5 SOH prop. $105,000
For more details call Jon Breese 402-669-6997 or Swiftlyjon@aol.com
(Nov 2013)

1948 Globe GC-1B Swift, N3898K - sn 3598
3300 ACTT, 30 SMOH with 6 new TCM cylinders on Continental C-145. Fully polished, original cowl,
original wingtips. Sensensich prop. Slick mags, Jasco alternator, SkyTec starter, F&M spin-on oil filter adapter, Lischer sticks, Merlyn gross weight increase, one-piece windshield, Corbin aux fuel (38g total cap),
steerable tailwheel, flat panel, KT76A transponder, PM1000 intercom, 406 mHZ ELT, C150 seats,
Cleveland W&B, annual done May 2013, all logs, excellent paperwork. Hangared. $49,000.
Contact: Kyle Slover (203) 209.7487 or sloverkyle@gmail.com
(Sept 2013)

1946 Globe GC-1B Swift, N80881 - sn 286
180 HP Swift GC-1B Fresh Annual. A low time, clean, 180-HP/ IFR machine. Lycoming O-360-AIA with McCauley c/s prop. Engine Time 337.5 TSMOH. Total time since new 668.9 Prop TT 478, since overhaul 171. TTA 1318.6 Outstanding red paint with white stripes. All new grey upholstery, new electric trim, new aux. wing tanks, P-51 gear doors. ADEL gear, Cleveland Brakes, strobes, landing/taxi lights, Brittain wing leveler, fuel totalizer, engine analyzer UB-16, volt-amp gauge, G meter. New one piece windshield, New Gull-Wing canopy & locking system & side windows, C-150 seats. Gross weight increase kit, flat panel, KX-155 with G/S Apollo SL-60 Comm + enroute GPS, SL-360 moving map, Xpr-Mode C,PMI-1000II intercom, KMA -24 MkrBk.GW 1970,EW 1384. Cruises 137 kts TAS at 8 gph, 48 gallons usable fuel. Records to day 1, restored by Swift Works 1997, Wing Jacks.
$65,000 Contact: George Panker (928) 855-8856 or georgegpanker@gmail.com
(Aug 2013)

1946 Globe GC-1B Swift, N3245K - sn 1238
Must Sell TTAF: 3113. Continental C125-2 with 1410 hours. 1386 SMOH.
Garmin GPS Map 496; Bose headphones.
Silver with Air Force markings. Beautiful. Hangared. $26,500.
Contact: Bill (361) 986-9808 or wbraddy@att.net
(Aug 2013)

1946 Globe Swift GC-1B, N80986 sn1179
Airframe Total Time - 2499 hours, 145hp Cont. O - 300A, SMOH - 354 hours, Cleveland Wheels and Brakes,
One piece windshield, Cessna 150 seats, Flat instrument panel, Electric fuel boost pump,
Scott Tail wheel, Wingtip strobes, New RCA 11A - 15 Directional Gyro, Narco MK - 12D Con/Nav,
King KT - 76 Xponder w Encoder, Sigtronics SAA - 400 Intercom, Dorn & Margolin ELT, Concord RG 35 Battery.
Hangared and flown at Front Range Airport (FTG) since 1988 $38,000
Contact: Mel (303) 344-1622 or aeromel1@juno.com
(May 2013)

PRICE REDUCED!!! PRICE REDUCED!!!


1946 Globe SUPER SWIFT GC-1B, N11HF - sn 1191
Cont. 210, 477 SMO, 2321 TT, bubble canopy, aux. fuel, Garmin 495, flat panel, dual comms dual navs,
intercom, electric trim, fuel flow indictor, cylinder head temp. indicator, attitude indicator, directional gyro,
160-165 mph ind., dual brakes, Cleveland W&B, electric aux. pump, C150 seats, custom interior, P51 gear
doors, Imron paint, buckaroo wing tips, wheel well landing lights, Scott large steerable tailwheel,
McCauley prop, always hangared, complete set log books since new in 1946, all STCs and paperwork,
owned 30 years. ex. cond., many awards.
$59,000 / OBO. Hangared at Venice, FL (VNC).
Contact: Jim (941) 966-5041 e-mail jdelegance@verizon.net
(May 2011)(April 2012)(Jan 2013)

1946 Globe Swift GC-1B N78287 sn 2287
PROJECT, Out of Annual. TTAF 3025 Continental C-145 past TBO at 2370 SMOH.
McCauley Prop. Alternator.. Heavy duty electric hydraulic motor.
P51 Gear Doors. C150 Seats. Reinforced tail section. 37 Gallons of fuel total with the
9 gallon aux fuel tank, Corben Cowl with Downdraft Cooling. Single pilot side gull door,
Shoulder harnesses. Steerable Scott 3200 tailwheel. Recently replaced Gear bushings.
Bonanza wing tips. Incremental flaps. Have an intercom but is not installed. Small stall
strips and extended wing root trailing edge fairing gives soft, controllable stalls.
Three points very well. One piece Windshield. Flat Panel, Lots of instruments, very old
radios. Electric boost pump, engine approved for auto fuel. Dual landing lights, Dual landing gear down lock lights, Strobes. Located in El Paso, TX
As is $28,000 / obo
Contact: Larry Owen w (915) 577-6832 c (915) 491-3183 or LarryOwen351@Gmail.com
(Oct 2012)

1946 Globe Swift GC-1B N191K sn 252
Lycoming O-320-3B3 with fresh overhaul. New Hartzel constant speed prop with new
Hartzel spinner. New gray leather interior, bubble canopy, control sticks, Cessna 150 seats,
new instrument panel with Garmin 530GPS and 327 Transponder, and new digital
Electronic International engine instruments. All flight instruments are new or overhauled. Century I autopilot. Aircraft has gross weight increase. Aircraft is hangered. Have new
canopy cover from Bruce's Aircraft Covers. Aircraft has been flown less than 20
hours since completion of mods and restoration. All work documented. $85,000 / OBO
Contact: Don Bush (478) 335-9671. Aircraft located in Macon, GA
(Oct 2012)

1946 Globe Swift N9DB Ser# 323
TTAF 2250; Factory New Lyc O-360A1A, 180hp - not yet run;
Hartzel CS prop 350hr since new Bubble Canopy, Sticks, Flat Panel IFR,
Aux Tanks (48gal useable), New Leather Interior, many other extras.
Exceptional SuperSwift - please contact for more details.
$85,000 Contact: Cincinnati, OH
Don Duke (513) 919-2770
DDukeMD@Gmail.com
(June 2011)

1946 Globe Swift GC-1B N90305 sn 319
Airframe: 1977 hours total time; 830 SMOH Lyc. O-360AIG 180 h.p.
1024 SOH Hartzell Constant Speed Propeller.
Avionics: King KMA 24 Audio Panel; KX-155 Nav/Com w/ GS; Garmin 250XL GPS/Com; KT-76 Transponder; Century I Autopilot (Inop); SPA-400 Intercom.
Addt'l Equipment: Sliding Bubble Canopy; Sticks; P-51 gear doors;
small wheels/tires/stall strips; extended wing root trailing edge fairing;
custom fiberglass cowling; Hooker 5 point shoulder harnesses;
Aux. wing fuel tanks (11 gal. each = 48 gals. total fuel); Cleveland wheels and brakes.
Exterior: Blue Metallic Flake w/ deep red and silver stripes (Rated 9/10).
Interior: burgundy seats w/ charcoal carpet (Rated 6/10).
Price: $75,500.
Contact: Paul Varnado (601) 955-0440 or email jvarnado@gmail.com
(April 2011)

Award Winning Swift For Sale - 1948 GC-1B Swift N2336B S/N 3636
TTAF: 1773 TSN ENG: 131 TSPOH: 131 PROP: HC-C2YK-1BF, New HUB CH 36471B with no A.D.'s. Lycoming O-360-A1A 180 HP Restoration was completed in 2003, by an A&P with inspection authorization and his partner who owns and operates Alturair in El Cajon, Ca. Custom designed paint January 2006 won Best Paint Award September 2006 at West Coast Swift Fly-In. New interior with 150 seats. IFR certified. STC's and field approvals were incorporated during the restoration: Alturair belly fuel tanks, battery relocation, aft fuselage door, gross weight increase, Cleveland brakes, P-51 Gear Doors, shoulder harness, Alturair wing tips, Aeroflash wing tip strobes/NAV lights, Cabin fresh air duct, landing lights in wheel wells, JPI EDM711 Eng. Analyzer with certified oil temp and oil press, FS-450 fuel flow, elect pitch trim, Thomason sticks, one piece windshield, new flat instrument panel. Both wings were opened to replace some skins, repaired corroded areas, zinc chromated and applied AV-8 corrosion inhibitor. Both gear were rebuilt with new struts and new seals. Rebuilt Hyd pump. All flight control cables and emergency gear cables replaced. Flap and gear actuators resealed. Computer jack for EDM 711 engine analyzer, oil temp. and oil pressure. Steerable Scott 3250 tailwheel. May 2009 annual all A.D.'s and S.B.'s C/W. $80,000
V iew complete spec sheet (Aug 2009)
Contact: Marshall Nash Phone 619-561-5321 email: swift36b@cox.net
Paul Ross Phone 619-449-1570 located Gillespie Field, El Cajon, CA
PARTS, PROJECTS,
WANTED, ETC...

For Sale:
Outstanding Firestone steerable tailwheel model DFA-277. This tailwheel is in very good condition
and shows very little wear. The Firestone tailwheel is listed on the Swift type certificate. Firestone
used the Scott 2000 tire and hub. $550 plus shipping.
Contact Brad Madden 804-370-7855 or brad@saginawwings.com
(Feb 2014)

WANTED:
Original engine baffles (couse I'm re-installing the original cowl instead of the fiberglass modern cowl.
The engine is a Continental O300-D).
Also, I need the original wing round tips (couse I would have the aircraft in original 1946 version...)



For Sale:
fiberglass engine cowling for Continental O-300 and buckaroo tips.

Contact: Stefano Landi landiss@virgilio.it
(Nov 2013)

For Sale:
Brittain Autopilot new in box $1600, ELI Landing Gear resealed and ready for install $2800, ADEL Landing Gear complete $2400, retract tailwheel $950, Right elevator $600.
Contact: Jon Breese 402-669-6997 or swiftlyjon@aol.com
(Oct 2013)

Wanted:
Stewart Warner fuel gauge for the stock 9 gallon aux tank installation.
Contact: Cody Coombs ccoombs@bellsouth.net
(June 2013)

Wanted:
Fiberglass cowling for Swift with O-300. Contact: John Marsh (202) 271-9110 or synwood@verizon.net
(May 2013)

For Sale:
Continental C-145-2H SN: 8033-D-3-2
1,851 TTSN 55 Since Extensive Top including new fuel pump, new stock exhaust, new ignition harnesses, overhauled SF-6 Mags, new oil pump gears, pistons, rings, pushrods, valve springs, keepers and guides.
You can literally bolt the engine and mount on to your swift and go fly! Asking $9,700
Recent oil sample came back clean. Contact: Travis Foss (805) 570-8764
(Apr 2013)

For Sale:
Sensenich 74DR-1-62 8 hole propeller C-145 O300A $1,695.00 plus shipping
contact: Bill Gass Mtn. View CA (650) 280-5629 or baron12k@gmail.com
(Apr 2013)(Dec 2013)

Wanted:
Would like to find a left wing tip in good condition to be polished.
Contact: Juergen at juergen.h.fuchs@web.de
(April 2013)

Wanted:
McCauley C67 prop for Continental IO-360
Contact: John Marsh (2012) 271-9110 synwood@verizon.net

For Sale:
Left & Right fuel tank $400 each
Contact Bryan (620) 423-9885 hotcacti@ckt.net
(Sept 2012)



For Sale
:
Continental O-300D FWF
0 SMOH 0 SPOH new spark plugs, new alternator, flow matched high performance cylinders. Asking $20,000 obo
Contact: David (870) 217-0832 or Jon (870) 217-9588
aviationperson@yahoo.com
located in Newport, AR
(March 2012)

For Sale
:
Swift Panel Starter Kit
Very nice flat panel.
$750.00 (plus shipping)
Contact: Ed Hibner
(941)484-9333 email
Hibner-Levine@comcast.net
(June 2011)(Feb 2012)
Other Parts: