NORTHWEST SWIFT FLY-IN 2006
INDPENDENCE, OR



This year we were really blessed with severe clear VFR weather for everyone attending. The skies were blue, the temps in the mid 80's, and the air smooth. The first arrival was Bill Stein from Santa Cruz, California. Bill arrived before I got to the airport and called me to make sure he hadn't won the "Jack Van Ek" Award for arriving on the wrong weekend!!! I assured him he hadn't and started the run for the airport. Shortly after arriving, I heard the unmistakable sound of Swifts in the air…. I couldn't believe my eyes when I saw flights of three and four Swifts arriving within minutes of each other; some in nice tight formations, others showing smoke and beating up the air! We actually had flights circling the airport, waiting for the traffic to lighten up for a landing. I later learned that most had met at the Salem Airport for lunch, and then made the five minute flight to Independence, arriving in mass.

Howard Means, from Scappoose, Oregon arrived with his beautiful Franklin powered Swift. The workmanship on this airplane is second to none. I was very impressed with the cowl flap installation that actually feathers out to increase in size when extended, but contracts when Howard closes it. The engineering to figure this out must have taken months! Howard's grandson, Levi, joined him. Maybe this is the start of a newer Swift generation?!?

The Canadians were represented by Rick Scott and John & Gay Northey. The Diamond Pointers probably set a record for launching the most airplanes from a single airport. Ernie Hansen arrived with his new "big engine" Swift. He's still working out the details of his cowling, but obviously he and the "usual suspects" (as Scott likes to call them) did a lot of work fitting that engine into the cowling. Tom & Stella Richardson, Pat & George Panker, Gary Eklund, Sam & Liz Klippert, Bill & Dot Shepherd, Gerry Mahoney & Jean Takahashi, and Guido & Karen Perla also came down from Diamond Point.

The year was the first fly-in for several newer Swifters. Larry Reece from Diamond Point flew a beautiful silver & green Swift, and Scott & Sandy Nauman from San Luis Obispo, California arrived in a highly polished 145 Swift. Scott has already won a number of awards with the plane. Larry was the only "casualty" from the weekend. While pulling his aircraft from the tiedown, he accidentally ran over his foot, breaking a bone and bringing on some serious pain. Dr. Jim Robison examined and treated Larry in our family room, but the postcard I received after he arrived home let me know that he'll be in a cast for the next 6-8 weeks…. Take care Larry!!

Swifter Keith Lassen wins the award for coming from the greatest distance. Keith was out from Bradenton, Florida visiting family, so he hopped a ride with the Diamond Pointers and took advantage of some west-coast Swift flying! Others coming some distance included the dependable Dick & Jeanie Collins of Woodside, CA, Jack & Lois Lindley of Paso Robles, CA, and Harley Howell III from Spokane, WA. Thanks to each of them for supporting the fly-in effort.

I even had an unexpected visit from Dave Simmons, Lebanon, MO, a former flight instructor that worked for me when we operated our FBO. Dave's now flying an Airbus 320 and fulfilling his life long dream of being an airline pilot. Congrats, Dave!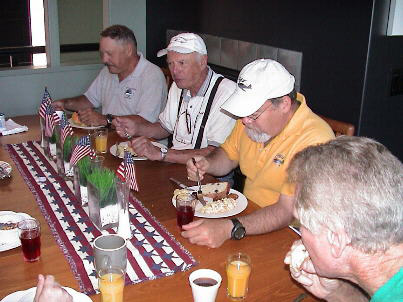 Dinner on Saturday night was hosted by my wife, Annie and me. We baked some Northwest Salmon on alder wood, and cooked some pork loins, added some roasted carrots & fennel, a green salad, a caprese salad, and some chilled asparagus. Dessert included a variety of peach cobbler, apple crostata, caramel bread pudding and chocolate fudge cake with strawberries and whipped cream. The happy hour before dinner put everyone in the mood for the festive evening that followed. We enjoyed a number of songs and some outstanding guitar playing by Guido Perla, Sam Kilppert & Jim Robison. I didn't realize we had that kind of talent in our group! It was good seeing Swifters visiting and catching up on the happenings in our lives. We counted 66 people for dinner that night (many local "friends of the Swift" joined us).

It was also good to see my former PAO Swift friend, Kent Koester, who is now living in Cottage Grove, OR. Unfortunately, Kent didn't get a lot of slack from his "friends" when he arrived minus the belly panel on his plane… He was quick to offer the excuse that he was simply blowing out years of accumulated dust, but he was later seen checking out one of Annie's baking trays, seeing if one might serve as a "field repair" to get him home!!!

Jack & Denise Worley also drove down from Hillsboro, OR. while Kyle Hook, Becki Bernard, Phyllis & Charles Hopkins and Swift friend Jim Ludwig filled out the Washington contingency.

I heard that many of the Swifters staying at the local motel stopped to watch the famous City of Independence Fireworks display on the way back to the motel. Actually, they didn't have much of a choice since the Police Department stops all traffic in town while the display is being shot off. None the less, they said it was beautiful!!!

Sunday morning started with a full breakfast at our house with everything from a Ham & egg soufflé to granola, yogurt, and baby red potatoes to all kinds of homemade pastries.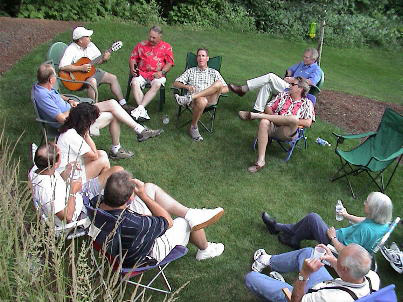 The flight planning started right after breakfast, but with 20-23 Swifts on the field, we decided to conduct several smaller flights of 5-7 airplanes rather than trying to herd "cats to the river" with a single large flight. Some visited the Evergreen Museum in McMinnville, some went to the coast, and my group flew up the Columbia gorge, past Multnomah Falls and Bonneville Dam. Around 1800 hours, we all gathered back at our house for drinks and hors d'oeuvres. The weather was wonderful so we sat outside and relaxed before convening at the Great Wall Chinese buffet for dinner. The room we reserved was perfect for eating and visiting.

Monday morning, things started winding down. The good byes were said on the ramp, and promises to see each other again at Westover were made! Another 4th of July fly-in was in the books. Annie and I want to thank everyone who made the effort to fly long distances, pay the outrageous gas prices, and even contribute to the cost of the rental van & food to make this a very special event for us. Annie and I aren't sure how many more of these semi-annual events we're good for, but if this were the last one, it would be one hell of a way to go out.

For more pictures of the fly-in click here.


INDEPENDENCE 2006 SWIFT FLY-IN GUEST LIST

Don and Annie Thomson ( Salem -OR)
Kyle Hook and Beckie Bernard (Portland -OR)
Jack and Denise Worley (Hillsboro -OR)
Kent Koester (Cottage Grove -OR)
John Asbury (Sweet Home - OR)
Howard & Levi Means (Scappoose - OR)

Dot and Bill Shepherd (Diamond Point - WA)
Sam and Liz Klippert (Diamond Point - WA)
Tom and Stella Richardson (Diamond Point - WA)
Gerry Mahoney and Jean Takahashi (Diamond Point - WA)
Charles and Phyllis Hopkins (Camas -WA)
Jim Ludwig (Camas - WA)
Guido & Karen Perla (Diamond Point - WA)
Pat and George Panker (Diamond Point - WA)
Ernie Hansen (Diamond Point - WA)
Larry Reece (Diamond Point - WA)
Gary Eklund (Diamond Point - WA)
Harley Howell III (Spokane -WA)

Jim Robison (San Rafael -CA)
Tom Numelin (Fairfax -CA)
Bill Stein (Santa Cruz -CA)
John and Lois Lindley (Paso Robles -CA)
Dick and Jeanie Collins (Woodside - CA)
Scott and Sandy Nauman (San Luis Obispo - CA

Keith Lassen (Bradenton - FL)

Rick Scott (Oliver - BC)
John and Gay Northey (Port Moody - BC)