Emmet Cook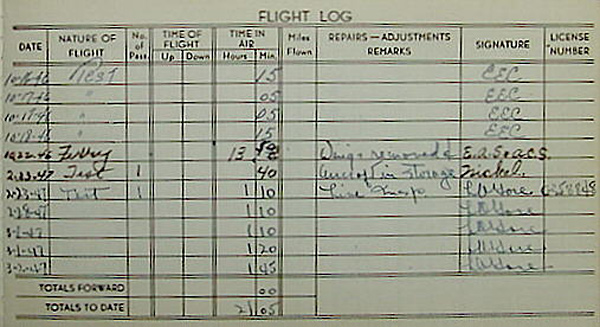 (Original log book Globe Swift N3307K s/n 1300)
Editor's note... If you are lucky enough to have the first logbook for your Swift, you might see the initials "EEC" in the signature column for the initial test flights. That would be one Emmet E. Cook. Mr. Cook is a long time volunteer at the War Eagles Air Museum in Santa Teresa, New Mexico and in fact test flew the very Swift now on display in the Museum when it was new. Terry Sunday, Director of Development for the Museum, sent me a copy of a recent Museum newsletter with a feature on Emmet. We share it now with you...


"...Globe Laboratories made serum for cattle...my father, George Cook, through his work on the Southwest Livestock Show and Rodeo, knew Mr. Kennedy (Globe President) well. In 1939 or '40, Kennedy decided that he wanted to build airplanes, and converted his horse farm stalls into a first-class manufacturing building. He got together with 'Pop' Johnson and began planning the type of airplane they wanted to build. But the war interrupted their work."

"After the war I was stationed in Midland, Texas. My sister, Edna Cook, was Mr. Kennedy's secretary. She called and told me Globe wanted to offer me a job. They offered me a hell of a lot more money that I was making as a First Lieutenant, so I got out and went to work for Globe. Ted Yarborough was the chief test pilot. Louis Donne and I were the other two. My job was to fly each Swift right off the assembly line to check the instruments and do power-on and power-off stalls to see whether or not it would fall off and a wing."

"The first Swift canopies were a 'Mickey Mouse" design. (There was no metal top hatch. Side panels slid all the way up over the pilot's head.) The side panels would pop out in steep banks when there was some torque on the fuselage. They slid up and down. When they were all the way up there was just not enough of them left in the fuselage at the bottom to hold them in place. Also, the landing gear and flap switches on the instrument panel were too close together. (Editor says... Closer than they are now???) These problems were later corrected on production models."

"The Swifts sold very well for a time. Then, all of a sudden, they just started stacking up, not being sold. Globe's bad habit of charging cost plus 10 percent, which they learned while making AT-10s for Beech, had caught up with them." TEMCO got the patents and took control of Swift production. They built lots of things, from popcorn machines to Swifts. They didn't make many Swifts after they took over."

"The Globe Swift was a really neat, fast little airplane with a fully retractable electro-hydraulic landing gear system and a manual crank backup. I was one of Globe's last employees. I flew for a little while for TEMCO delivering Swifts as far away as St. Louis, but I didn't stay with them very long."

Biography...
Emmet E. Cook was born in Fort Worth, Texas, on March 5, 1918. After studying Mechanical Engineering at Texas A&M University from 1936 to 1939, he joined the U.S. Army in 1940 and went for pilot training to the Allen Hancock School of Aeronautics in Santa Maria, California. Eliminated from that class, he returned to Texas and got his commercial pilot's license in 1941. Before the U. S. entered the war, a contractor called the Clayton Knight Committee was recruiting pilots for the Royal Canadian Air Force. Emmet took a flight test and passed. The R.C.A.F. Extended him an invitation to come fly with them, and sent him a railway ticket to Canada. On December 7, 1941, he was on his way north. After the attack on Pearl Harbor, the Army somehow found him. Recalled to the service, he reported for Bombardier School at Houston's Ellington Field on December 10.
In 1942, after finishing his bombardier training in Albuquerque at what is now Kirtland AFB, 2nd Lieutenant Cook went to England with the 301st Bomb Group, a B-17 unit that was one of the first to arrive. Along with the 97th Bomb Group, it was also the first to fly bombing missions over Europe. In November 1942, both Groups went to 12th Air Force in North Africa, which was commanded by Major General James H. "Jimmy" Doolittle. Emmet and his unit took part in Operation Torch and supported General George S. Patton in his battles with Feldmarschall Erwin Rommel's Afrika Korps.
"I was shot down on my 32nd mission, over Palermo, Sicily," Emmet said. "We were hit by flak between the number 2 engine and the fuselage…the fuel tank caught fire. I pulled the emergency release cable that was supposed to pull out the lower hatch door's hinge pins, but it wouldn't budge. I then released the regular latch and stood on the door, trying to use my weight to push it open…I got it open, but because of the force of the slipstream, it didn't open far enough for me to get out. At that moment, the wing burned off and the plane went into a spin. I was pinned against the deck…the plane exploded and I found myself out in the air. Five of the crew didn't make it out."

He parachuted to a landing in a patch of cactus, and an Italian goat herder with a rifle detained him. After the Italians interrogated him, 1st Lieutenant Cook ended up in Stalag Luft 3, a Prisoner of War (POW) camp in German Silesia (now Poland). Everyone familiar with the "Great Escape" should recognize that name. When his fellow POWs learned that Emmet had studied Mechanical Engineering and knew "a little bit" of civil engineering, he was asked to help a Flight Lieutenant Brian Evans map the camp. Using a transit made from a protractor and a homemade sight, they set baselines and triangulated to measure distances accurately. The POWs needed good maps so they could dig escape tunnels. Thanks to Emmet and Brian's painstaking surveys, the men knew their tunnels would have to be at least 280 feet long to reach the tree line of the surrounding forest. Improvising everything, the tunnel-diggers were amazingly ingenious. They used empty milk tins and a homemade bellows to blow air into the tunnels. With scrounged wiring, they installed electric lights. To get rid of the mine tailings, they sewed drawstring bags into their trouser legs. According to Emmet, "The 'penguins' would walk around the camp letting out the tailings a little at a time. We had tons of that dirt to dispense." Emmet once tailed a German guard for days, covertly measuring the guard's rifle. A British officer made a German uniform and carved a fake rifle out of scrap lumber. "Every day the guard escorted prisoners out of camp for work details," Emmet related. "One day, while the prisoners distracted the guard…the British officer, in his German uniform and carrying his wooden rifle, marched some prisoners out the front gates! Unfortunately, they were all soon caught…"

In January 1944, Emmet and many other American prisoners were transferred to a new part of the Stalag Luft 3 compound. Just two months later, on March 24, the "Great Escape" took place from the original compound. "Except for an Allied air raid on Berlin on the night of the escape, which shut down all electricity including the lights in the tunnels, they would have emptied that compound," Emmet said. Flight Lieutenant Brian Evans was one of 76 POWs who escaped from Stalag Luft 3 on that dark night. All but three were soon recaptured. The infuriated Gestapo later murdered him and 49 others.

Freed in April 1945, after two years, one month and 7 days as a POW, Emmet returned to Fort Worth and took a job with Globe Aircraft as a production test pilot for Globe Swifts. His is the first signature in the Airframe Log of War Eagles' Swift, but that's no surprise, he said. "As with most all Swifts built in 1946 and 1947, that was all I did, every day. I flew this one again with Jack Bell, the museum's Chief Pilot, 50 years after I first flew it." After Globe folded in 1947, Emmet delivered airplanes for Temco-Vought for a while. Then, figuring there were "too many pilots," he left flying for the heavy equipment business. In 1950, he took a sales job in El Paso with Hobbs Trailer Company.

A War Eagles volunteer from day one, Emmet specializes in crafting exquisite bookends from P-51 Mustang pistons, which sell in the Museum's gift shop for about $35.00 per set. All proceeds, of course, directly benefit the Museum. We salute Emmet E. Cook for his distinguished service to our country and for his many years of loyal and dedicated volunteer work. Thanks, Emmet!