Oliver SwiftFest!
September 2-4, 2006
Report by Gay Northey
Photos by Dot Shepherd and Gay Northey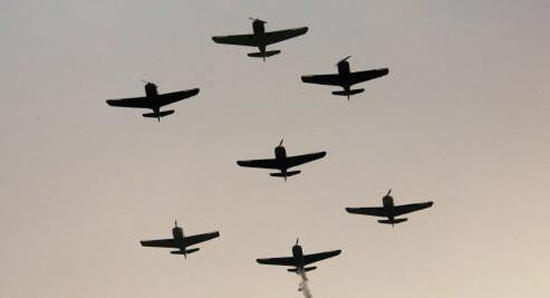 We had a great time on the Labour Day weekend in Oliver, BC, at the annual SwiftFest flyin. Had the most a/c yet - 13 Swifts and a Cessna 210 (freight?) - plus drive-ins. First to arrive had to be Judy & Ron Best and son, Tyler by car from Calgary. They were on the spot a day early as advance party to start setting up for Rick. The big news in the Best family has to be son Tyler's acquisition of the newest Swift in the group (C-GCQL). It was almost ready to fly to SwiftFest, having been restored by 20-year-0ld Tyler and Dad, Ron. Next year!

The weather was excellent coming and going, save for the massive amounts of smoke from wild fires raging just south of the US border. Parked on the area outside the Southwind Motel by Saturday afternoon were Swifts owned by Jeanie & Dick Collins, Portola Valley, CA; Dot & Bill Shepherd, Liz & Sam Klippert, Gary Eklund, Gerry Mahoney & Jean Takahashi and Ernie Hansen from Diamond Point , WA; Karen & Guido Perla from Vachon Island, WA; Kyle Hook and Beckie Bernard of Portland, OR and Rick Scott & Stephanie Dryhurst , Bill & Eileen Findlay, John & Gay Northey, Gene Gillott and Ted Audrain from BC. Mike Merker and Brenda Bach from Diamond Point joined us in his Cessna 210. Drive-ins were Ray & Win Findlay from Keremeos and Dave and Karen Brandmeir from Diamond Point in their RV. All attendees were treated to T-shirts created by Rick at no charge. He is such a talented chap….Thanks, Rick.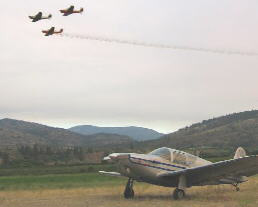 The Saturday evening BBQ took place near the aircraft where folks either sat under Rick's silk parachute sun-shade or outside it, watching the formation flying that erupts spontaneously whenever Swifters get together. There was plenty of formation work, which drew many townsfolk to the airport fence to watch. Lots of photos are thanks to Dot Shepherd who has gathered them together for the Swift web site and newsletter.

All day, the smoke from the south turned the sun orange-red. At sunset the sky itself took on a brief golden hue and cooler air prevailed.

Sunday dawned cool. We were treated to breakfast, as a special favor, by the Oliver Flying Club - many kudos to flying club members who volunteered to cook. They did a great job and saw to it that we could indulge, as in years past, in the juiciest, sweetest, melons in the world, freshly picked at a local melon farm famous for its many varieties.

Once replete with breakfast, some Swifters toured the winding route through orchards & vineyards by car to the Naramata area just NE of Penticton. Others walked in to Oliver to find that Oliver shops are dwindling to only a few of any interest to those of us who glory in 'junque', fabric, books and curious bargains. However, there is a very warm and welcoming wine boutique with sampling area of very interesting variety of award-winning wines, light meals and a terrace, to which five of us retired to prepare for the walk back to the motel. This is wine country, after all. One must support the local economy.

The majority of Swifters – especially those from Diamond Point, WA - flew after lunch to Vernon, the Okanagan's northernmost and greenest community, to watch Gary Eklund do the jump he won at last year's prize draw. (While I had my hand up, this year's jump prize went to Bill Shepherd; maybe next year?) Rick's lady, Stephanie, was the instigator of the jump prize last year and was first out of the aircraft when Gary made his jump. His ear-to-ear grin was still evident when we all packed up to leave on Monday. Everyone got to watch the DVD of his triumph after dinner on Sunday night.

Dinner was outside on the terrace and the donated prizes were plentiful and varied - also much appreciated by all the winners. Our thanks to all those who contributed. Eileen Findlay brought two of her coveted wall quilts and I was able to choose an Elf Aviation T- shirt at last. The mosquitos even stayed away during the meal so that we could enjoy the cuisine. Ray & Win Findlay were presented with a card signed by all, to celebrate their 60 years of happy married life and their loyalty to the Swift through these many years. They never seem to change – quite an example they set for all of us.

The single most inviting thing about the Oliver SwiftFest has to be its informality. Everyone pitches in to help with the various tasks. There is no formal registration, no written schedule, lots of food inside and out, wine, fresh fruit from the local trees, wine, tire-kicking and tale-telling, the very best company, wine and no pressure. (Well, maybe Gary was under a bit of pressure, but he didn't buckle).

It was great to have a few new faces (attached to bodies, of course) to meet this time.

Why not join us next year, if you haven't yet experienced the laid back life of the sunny Okanagan?
Gay

Other Voices...
~ Guido the Burrito ~
by Gerry Mahoney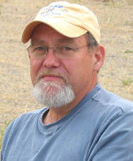 September first marked the gathering of the Burrito Brothers flying team plus one at Diamond Point. It seems we have taken over responsibility for Uncle Vinnys' nephew, Guido Perla. He and his lovely Bride (English instructor) were the "Plus One". For those who do not know of Guido, that is a lot of responsibility. A task that only the Burrito Brothers or the CIA could handle. Ernie and Penny Hansen, sponsored the evening meal and flight briefing for the next days journey to the house of Rick. Ernie, is Guidos' new interpreter which was good because he was also briefing the next days assault on our neighbors to the north. Ernie completed an extremely detailed brief with all of the frequencies, altitudes, airspace problems, flight plan numbers

and Canadian customs numbers and procedures. After a short flight across the border the flight landed at Abbotsford, BC to clear customs and bladders. Guido, (sometimes referred to as Guide-O) Took off with the small engine Swifts for the leg across the mountains to Oliver. Gary Eklund (Jumpin Gary) was in the lead with Ernie, leading the big engine folks. Twenty minutes after takeoff, somewhere above the canyons and below the peaks, Guido, suddenly wants an altimeter setting and frequency for Oliver? Now folks, I have to admit Ernie, did not have the altimeter setting for that area the day prior, but he did brief the Frequency for Oliver! -- Gerry Mahoney


~ Go Ahead and Jump ~
by Gene Gillott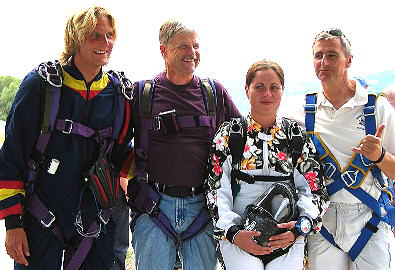 "The flying appeared to have the greatest number of aircraft to ever attend. The big draw was, of course, to witness Gary Elklund's attempt to create a large hole in the ground by jumping out of a plane that was in excess of 10,000 feet.. Of course, we all had to fly up to Vernon to give him moral support. I am sure that the various requests for the keys to his airplane and his wallet prior to his departure in the jump plane made him feel warm and fuzzy. Just knowing that your friends were there to take care of your possessions if anything went wrong must have gone a long way to remove any anxiety that he was feeling. But that is what friends are for, right? The other thing that sticks out in my mind was the trip back to Pitt Meadows. We ran into smoke so thick that...... But that is another story. -- Gene Gillott"